DEAD, STILL BREATHING

Owen Stanford isn't a man who does things on a whim, so when the notion strikes him to drive over 200 miles to a place he's never been before, he wonders if madness isn't far off. The minute he steps foot in the small community, he knows he's not welcome. The mountains don't want him there. Their secrets want to remain untouched and buried. The people don't want him there. Bloodlines run deep and outsiders aren't to be trusted, especially when they start asking too many questions that only the dead will answer.
Amazon: US | UK | CA | AU | B&N, Apple, Kobo, etc.
THE LIFE CYCLE OF A STAR
The Life Cycle of a Star is a collection of poetry about taking your life back after leaving an oppressive belief system, raising your voice when the past wants to silence you, finding your self-worth when destructive thoughts hold you back, and hoping for the magic of love when wishing on a dying star.
B&N, Apple, Kobo, & etc | Amazon: US | UK | CA | AU
THE VOICES UPSTAIRS
Fourteen-year-old Jason Myers thinks he's a hero for taking down the school bully. So he got suspended. What's the big deal? It's a week off from school, right? But Jason's little vacation quickly turns into a week-long stay with his grandmother to keep him out of trouble. With no freedom, no cell phone, no video games, and a house that reeks of cat pee, life can't get any worse for Jason.
…until the dead start talking.
Now Jason has bigger things to worry about. What do the ghostly voices coming from upstairs in his grandmother's house want with him? As Jason searches for answers, he learns the house holds a dark family secret and that some will do anything to keep that secret buried in the past.
Available in e-book and paperback.
Amazon: US | UK | CA | AU | B&N, Apple, Kobo, & etc.
DOLL PARTS : a slightly demented and somewhat humorous short story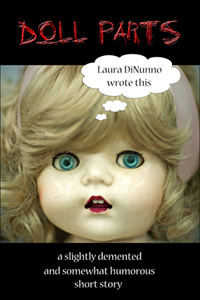 Lonely Thomas Wharton is searching for the perfect girl. Except she doesn't exist. Yet. But with a collection of dolls and a satanic ritual, he's about to change all that. What could possibly go wrong? Well, it turns out, everything.
Amazon: US | UK | CA | AU | B&N, Apple, Kobo
THE GOOD DAUGHTER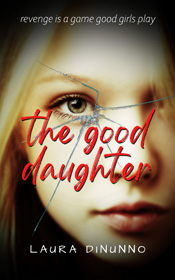 At seventeen, Christa Pierce has the perfect life. She's rich, pretty, the smartest in her senior class, and a star of the high school cross-country team. She has everything. She is everything. A winner.
But it's all a lie.
The pretty face is a mask she wears to hide family secrets that shine like bruises. A disguise to cover what her father's cruelty has stolen from her, including the mother she never knew.
Now Christa is ready to break free from the prison of her so-called perfect life and destroy the man who keeps her in line with the back of his hand. Revenge is a mind-game played dark and twisted. Friends are pawns. Right and wrong gets blurred. But just how far is Christa willing to go to win at this game?
Available in e-book, paperback, and audio.
Amazon: US | UK | CA | AU | Barnes & Noble | Apple | Kobo
Audio book: Google Play | Apple | Scribd | Nook audio | Chirp | Hoopla | Kobo/Walmart
WAKE UP TO MURDER : a Ricki Rydell mystery
When Ricki is invited to appear on a new talk show to promote her latest book, she declines, of course. After coming face-to-face with a killer while working on her first case, all she wants is to go back to living a normal life, and that doesn't include public appearances. But her agent insists that she does the interview.
On the day of the show, the host turns up missing and Ricki was the last person to see her alive. Once again, Ricki finds herself investigating a murder. This time, things are personal. Old friends and lovers come back into her life. A saboteur lurks in shadow, wreaking havoc on Ricki's career. Things look bad for Ricki unless she can find the real murderer before she's accused of a crime she didn't commit.
Available in e-book and paperback.
Apple | Barnes & Noble | Kobo | Amazon: US, CA, UK, AU
CHECKED OUT : a Ricki Rydell mystery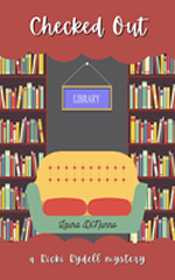 When bored and burnt-out romance writer, Ricki Rydell, discovers a body in the bathroom of the Unionville Public Library, she jumps at the chance to solve the crime.
No one in Unionville had nice things to say about the victim when she was alive, but now that she's dead everyone is tight-lipped. Are they hiding something? While the living may have stopped talking, the deceased certainly hasn't. The victim left behind a trail of cryptic clues leading Ricki to a seedier side of her community.
Ricki is in over her head and longs for her boring old life as a reclusive writer. Too late. She finds a death threat on her porch, demanding she back off or else. Now Ricki has to find a killer before she's the next victim.
Available in e-book and paperback.
Apple | Barnes & Noble | Kobo | Amazon: US, CA, UK, AU
Audiobook: Kobo | Google Play | Chirp | Scribd | Binge Books | Libro | Apple | Nook Audio Also available on Audible
THERE I AM IN PIECES AGAIN