DOLL PARTS :
a slightly demented and
somewhat humorous short story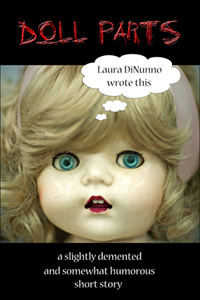 Lonely Thomas Wharton is searching for the perfect girl. Except she doesn't exist. Yet. But with a collection of dolls and a satanic ritual, he's about to change all that. What could possibly go wrong? Well, it turns out, everything.
____________________________________
I love this story. If there's any one book of mine that truly captures my sense of humor, it is this one. This is a re-release but the story has been revised and expanded and has a proper ending this time. When I wrote it years ago, I have every intention of releasing it as a five part serial, but I learned quickly that short serials make a lot of people angry, especially ending books on a cliffhanger. By then, I was so burnt out on writing and publishing that I scrapped it altogether. But because I loved this book so much, I brushed it off and fixed it.
DOLL PARTS…coming November 5th